Simple Acts: The Busy Family's Guide to Giving Back
by Natalie Silverstein, MPH
Take a fresh approach to community service and giving back. Teaching young children to be socially conscious, community-oriented, and eager to volunteer seems like a daunting task, especially for busy families with children of varying ages. Simple Acts brings busy parents practical, easy-to-do ideas to involve the whole family in volunteering and helping others in the community.
With step-by-step instructions, you'll learn:
Full of advice, tips, and real-life stories; this fun, easy-to-use guide helps parents and children of all ages incorporate hands-on community service experiences into their daily lives. You're never too young -or too old- to start giving back!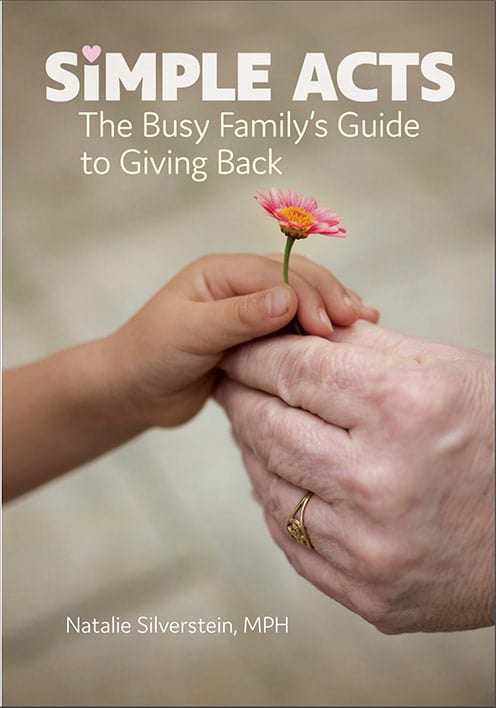 Fran Hauser
One of my favorite quotes from this book is: "Raising kindhearted children is a marathon, not a sprint". I love how the author provides step-by-step instructions on how to choose community service options that are right for your family. This is something that I so appreciate as a mom and I'm excited to implement some of these ideas with my family!
Author of The Myth of the Nice Girl
Bobbi Rebell
I was able to get a sneak peak of this book and was already a fan of the author's from her newsletter and website "Doing Good Together". The book hits on everything parents need to get kids not just doing good but engaged and excited about it. As a parent I loved the specific examples she offers as well as learning how to fit it all into a schedule that is already packed. I plan to buy this as a gift for friends and family that 'have everything' but are looking for something more.. as well as for my child's school library.
Author of How to be a Financial Grownup
Misty Castaneda
"Simple Acts is a MUST HAVE book for every family looking to raise the next generation of kind-hearted citizens.  This guide not only provides endless inspiration and resources for families to get involved in giving back, the "how", but it also gives them the "why"- something many people struggle to understand in today's world.
From "Playdates with Purpose" to "Taking Service on the Road", this book suggests a wide range of activities that busy families can engage in to truly make giving back not only fun, but a central theme in their lives.  As a social entrepreneur whose "do good" business is focused on teaching kids about being kind & doing good in the world, this book will be one of the first that I recommend to families really looking to make the world a better place."
Founder of For Purpose Kids
Elyssa Friedland
"Raising children with a social conscience has never been easier thanks to Natalie Silverstein's brilliant and comprehensive book. As a working mother with three small children, I had been searching for ways to incorporate service in our busy family's life in meaningful and practical ways. Now I pick up Simple Acts and within minutes, I've been inspired to plan a birthday party with purpose, bring more meaning to the holidays and to incorporate special acts of kindness into our daily lives. This is a must-read for anyone wishing to foster empathy in their children in this ME, ME, ME, technology-centered environment."
Best-selling Author of Love and Miss Communication and The Intermission
Jenny Friedman
"Got five minutes? Then your family can begin making a difference!Simple Acts offers a highly accessible compilation of fun, simple ideas that empower families to weave service to others into their hectic lives. Caring about others — and the greater good – should be part of every child's early life lessons. Silverstein's how-to guide makes it easy for any family to start building a better world, while teaching their children the value of generosity, kindness, and community engagement."
Founder of Doing Good Together