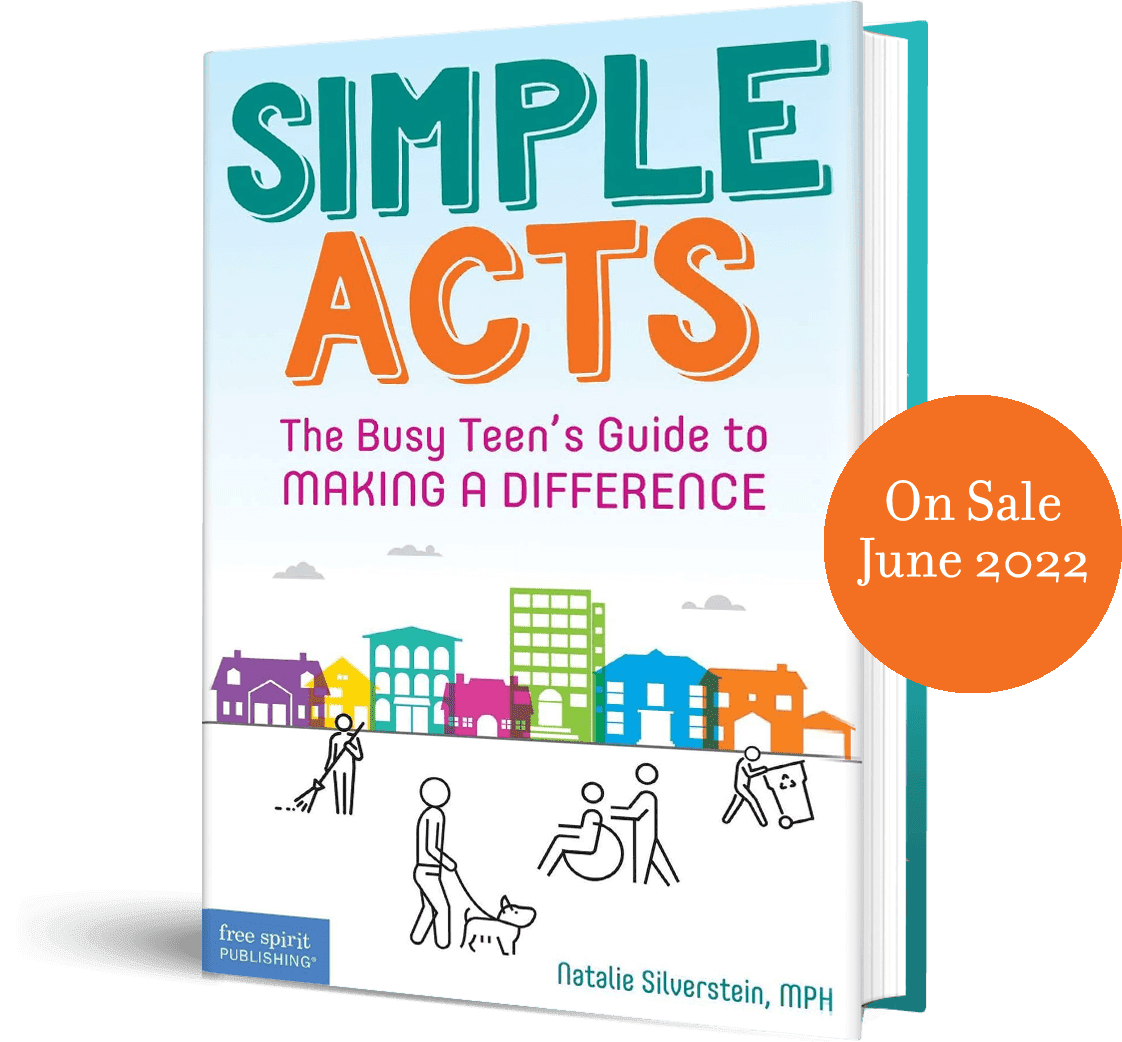 Available June 2022
Free Spirit Bookshop Amazon Barnes & Noble
Young people can make a difference in the world no matter how busy they are. Simple Acts shows them how, with easy and practical resources and tools that can help teens add intentional acts of kindness and service to their everyday lives.To make a difference in the world, young people can do simple things to help make the world kinder and gentler. Rather than expecting teens to fix all the world's problems, Simple Acts equips them with the hands-on tools and know-how they need to make small but meaningful change, such as:
honoring happy occasions by giving back
raising money and awareness for the causes they care about
harnessing the power of social media to spread positive messages
A passionate advocate for family and youth service, Natalie Silverstein, MPH, wrote Simple Acts to inspire a more realistic approach to service for young people, a more organic way to make the world a better place: one simple act at a time.
Reviews
"When I was looking for ways to engage in service and acts of kindness with my family, I turned to Natalie Silverstein and Simple Acts. The Busy Teen's Guide to Making a Difference inspires the next generation of changemakers to find their passion for service and provides the tools they need to make a meaningful difference in the world, one small act at a time."
–Laura Benanti, Tony Award-winning actress, author and activist
"In this follow up to her Simple Acts: The Busy Family's Guide to Giving Back, Silverstein encourages and inspires teens that – even with their busy schedules – they still have time to do simple acts of kindness and giving that make a positive difference. She makes it seem not only possible, but incredibly simple (as the title suggests!). Let's get this book into the hands of teens everywhere, because it's their turn to make a positive difference in the world."
–Audrey Monke, Camp Director, Speaker, Podcaster, Author of Happy Campers: 9 Summer Camp Secrets for Raising Kids Who Become Thriving Adults
"Research tells us that not only does giving back help our communities, it also our helps our tweens + teens manage their stress and anxiety. This is the perfect roadmap for our adolescents to do good in order to do well."
–Vanessa Kroll Bennett and Dr. Cara Natterson, Co-hosts of The Puberty Podcast
"Simple Acts: The busy teen's guide to making a difference is a gift to any family who values raising a teen with kindness, generosity, and a sense of community. This book is not only inspirational, it helps aspirations become a reality by including actionable ideas and practical resources to get started and sustain a life of giving and empathy."
–Dr. Sheryl Ziegler, author, Mommy Burnout: how to reclaim your life and raise healthier children in the process
As teenagers figure out how to become the purpose-driven leaders of the future, perhaps the most important thing they can do is find ways to engage in volunteerism and philanthropy. Natalie Silverstein's new book, Simple Acts: The Busy Teen's Guide to Making a Difference is a great tool to help them get started on this journey. Covering topics like social entrepreneurship, fundraising, and social media as a force for good, it is an approachable, actionable resource guide for today's busy teen's who care about making an impact on the world.
–Lindsey Pollak, NYT best-selling author, speaker and multi-generational workplace expert
Natalie Silverstein's Simple Acts: The Busy Teen's Guide to Making a Difference should be in the hands of every teen who wants to lead through their values and build a purposeful life. Silverstein shows teenagers (just like my own) how they can harness their passion for purpose into giving back and social entrpreneurship—preparing the leaders of tomorrow to make work and life better for us all.
–Erica Keswin, workplace strategist and bestselling author of Bring Your Human to Work and Rituals Roadmap
As the parent of two soon-to-be teenagers, this book is perfectly timed for our family. Simple Acts: The Busy Teen's Guide to Making a Difference is aligned with my goals of encouraging my kids to live with authenticity and intentionality. Filled with tools, tips and resources to help busy 'tweens and teens figure out their "why" – their purpose and passion – Simple Acts empowers young people to use their time, skills and energy to help others.
– Fran Hauser, speaker, investor and author of The Myth of the Nice Girl and Embrace the Work, Love Your Career
I have never seen such a comprehensive, step-by-step guide that connects all of the dots: helping others, volunteering and making kind acts part of daily lives. Simple Acts: The Busy Teen's Guide to Making a Difference puts actionable steps and resources at the teens' fingertips and provides clarity with overwhelming. Simple Acts should be required reading for all middle and high school students. I recommend it to all proactive parents who want to raise teens with kindness and purpose. Excellent resource for families!
–Kimberly King, sexual abuse prevention expert and author of I Said No! A kid to kid guide to keeping private parts private